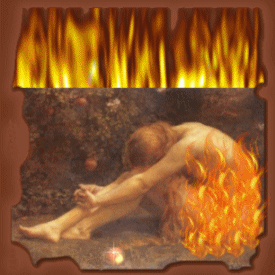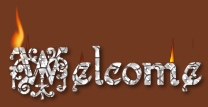 Have you ever felt temptations fire?
If you said no, you just gave into the
temptation to lie!
We are all tempted.
The temptation itself is not a sin,
giving into the temptation is the sin.
The devil had me to believe when I was
a baby in Christ, that if I was tempted, that
something in my Christian walk was wrong.
That I must not be living the life Christ called
me to. But we all know that he's
a big liar. So we are all tempted. It's the "Do we
give in, or Do we resist." that counts.
He makes the temptation so
appealing that at times that we feel that we must
give in that the temptation is too strong.
This is also a lie straight from hell!
Christ tells us in 1 Corinthians 10:13-
There hath no temptation taken you
but such as is common to man: But
God is faithful, who will not suffer you to
be tempted above that ye are able; but
will with the temptation also make a way to
escape, that ye may be able to bear it.
Now let's not take this wrong God is not the one
to whom tempts us. And don't let satan
tell you that God does.
Cause it's satan who temps us. Read in
James 1:13-
Let no man say when he is tempted,
I am tempted of God; for God cannot be
tempted with evil, neither tempteth He
any man:
So we know temptation comes from hell
and we know God doesn't tempt us.
So you may ask why are we tempted in the first place?
Well to be strengthened. How else do we
grow other than spending time with God
and reading His word? We go through temptations fire.
We are tried by fire, and we can be made
as gold. Whichalso goes through the fire
to get out all impurities.
With every temptation we DON"T give into we
grow stronger in the Lord! I know I do!! When I've given
into temptations fire I've felt condemned and lowly.
And satan used it for all it was worth too!
But when I asked God to help me not to give
into temptations fire, I've felt VICTORIOUS in Chris Jesus!
We can read in God's word of people who were tempted.
And we know the out comes, Whether they gave in
or not. Let's look at David. He was tempted by bathsheba.
And because he gave into temptations fire look at how he suffered.
We look at Job and how he refused to give into temptations
fire and we see how he was blessed. We look at
Shaddrach, Meshach and Abednigo,
We see they didn't give into the temptation to save
themselves from the fire. And we see how they were
saved IN THE FIRE. Hallelujah, Praise be to Jesus.
The 4th man in our Fire. So remember when
satan comes with that delectable fruit. Tell
him no the fruit of GOD IS ALL I NEED!!!!
Written By: Pamela